FIVP attends BVNA Congress 2016
The Federation of Independent Veterinary Practices (FIVP) recently attended the BVNA congress 2016. From 7-9 October, veterinary nurses, nursing students, animal trainers and practice managers visited the FIVP stand, to find out more about the federation.
We had a very positive reception, with independent practice staff requesting further information and taking details of the application process.
As the federation has been designed to support all staff members of independent practices, our BVNA stand attracted attention from every level. Many practice managers we spoke to were excited to see a not-for-profit association being formed to help and guide independents.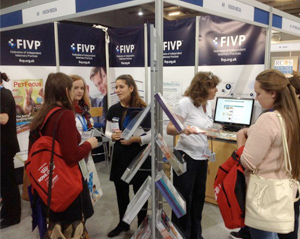 The FIVP stand was also popular with nurses and nursing students looking to further their CPD. The students loved the live demonstration of the online CPD log, VetCommunity.com; searching the areas they were interested in and logging time to their own personalised accounts. Many of the nurses and practice managers who stopped at the stand were excited to discover the veterinary journal, Vet Practice Today, with many delegates taking two or three different issues for CPD reading.
With the new 'find an independent vet' search tool soon to launch, many delegates were excited to sign up, making their practice details available to members of the public, in their area.
The FIVP received some fantastic feedback and is looking forward to meeting more members at the London Vet Show, in November.